Dental Cleanings and Check-ups Near You
It is important to get dental check-ups in South Edmonton on a regular basis to maintain healthy teeth. Having plaque and tartar properly removed is essential to your dental health. Plaque is a layer of invisible bacteria that coats your teeth every time you eat or drink something. Eventually, this bacteria will work to convert sugars into acids that erode tooth enamel and cause decay. While proper brushing and flossing are important to maintaining dental hygiene, it is not effective at removing all the plaque and tartar. This is why Landmark Dental recommends that you regularly schedule dental cleanings near you to prolong and preserve the health of your teeth.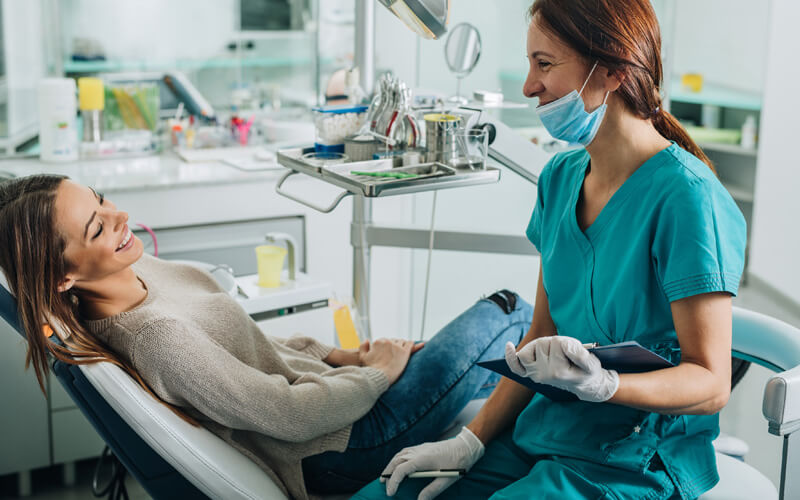 Why is it Important to Have Regular Dental Cleanings and Check-ups in South Edmonton?
Often you can't see what occurs at the surface of your mouth. As tartar begins to build up in the mouth, a lot of the bacteria that form the plaque and tartar can be found in the unseen parts of your teeth just below your gums. This can result in infection and lead to gingivitis, which is an inflammation of the gums. Gingivitis is often not initially experienced with any painful symptoms and therefore goes untreated for long periods, which can lead to complications. Receiving regular dental cleanings near you can help to prevent these complications from taking place.
Sometimes, people decide that the irritation of inflamed gums when brushing is tolerable and do not seek dental cleanings in South Edmonton. However, if they let this infection build, it can cause periodontal disease. Periodontal disease is dangerous because it can compromise the structure of the teeth and can lead to tooth loss. For this reason, it is vital to always get dental check-ups near you.
Prevention
To prevent gingivitis and periodontal disease, you must keep your teeth clean to prevent the build-up of plaque. It is recommended by the CDA that you brush your teeth at least twice a day and that you floss at least once a day. When brushing, make sure to pay close attention to the area where your gums and teeth meet. Furthermore, you should be scheduling regular dental check-ups near you along with dental cleanings near you.
Looking for Dental Cleaning in South Edmonton?
It is important to have your teeth professionally cleaned every six months or sooner. If you would like to schedule a dental cleaning in South Edmonton, we are happy to provide this service at Landmark Dental.