Invisalign Near You
Braces used to be necessary but painful, inciting self-consciousness and frustration. Today, we have a much more popular and preferable option: comfortable and removable aligners called Invisalign. At Landmark Dental, our team is happy to provide Invisalign near you.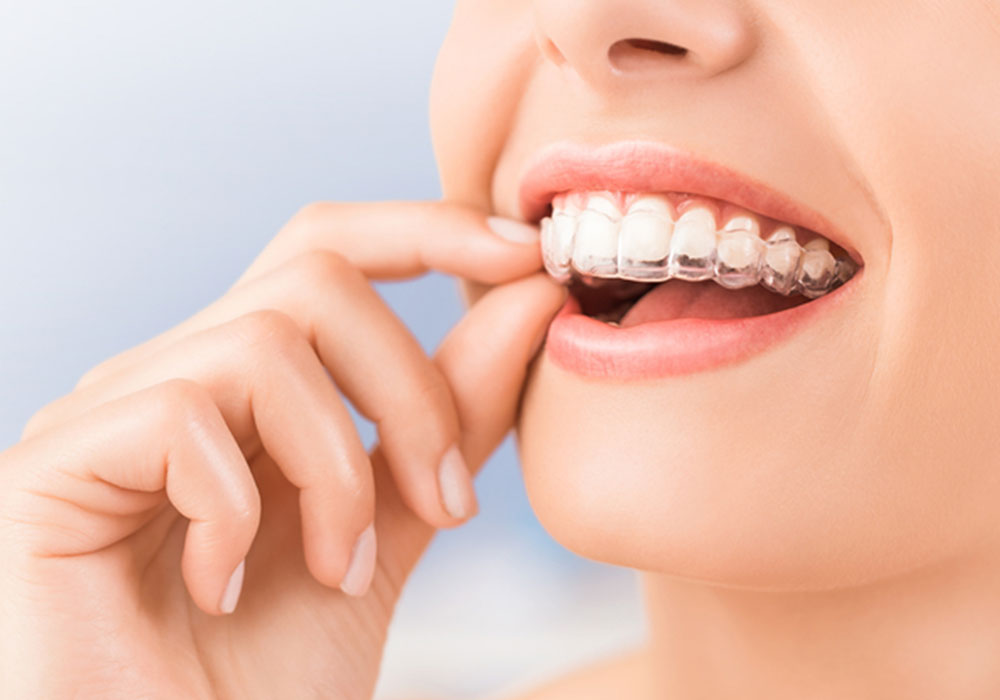 What Issues Does Invisalign Address?
Landmark Dental offers Invisalign in South Edmonton to patients who require orthodontics. Invisalign is used to treat many dental concerns, including:
Overbite
Underbite
Crossbite
Crowding
Gaps
Unevenly spaced teeth
If you are interested in receiving Invisalign near you, schedule a consultation at Landmark Dental to see if Invisalign is right for you. Our dentists will work with you to figure out what you need to fix your unique situation. Once you begin using Invisalign, your teeth will start to shift slowly into the optimal position. Invisalign is suitable for all ages, and because the aligners are clear, they are an excellent option for those who dislike the appearance of braces.
Benefits of Invisalign Near You
Invisalign is a comfortable and easy alternative to traditional braces. Receiving Invisalign in South Edmonton is beneficial for many reasons, such as:
Modern technology: As you go through your treatment with Invisalign, your dentist will be able to track your progress and determine the approximate length of treatment required. They will also be able to project your expected results after the treatment.
Eating what you like: Since you get to remove your aligners when you eat, Invisalign allows you to eat whatever you want. This is a luxury that traditional braces do not afford.
Cleaning: Traditional braces are tough to clean because food particles often get stuck in the brackets. They also make it harder to prevent the build-up of plaque and tartar, which can cause stains on your teeth. Because Invisalign uses removable aligners, you will be able to clean your teeth and aligners effectively.
How Do I Get Invisalign?
If you are looking into getting Invisalign near you, you can expect to participate in the following steps:
A Consultation: Schedule a consultation with one of our dentists to see if Invisalign is a good fit for you.
Customization: Once our dentist decides that you are a good candidate for Invisalign in South Edmonton, they will take some pictures and impressions of your teeth to create aligners that are made uniquely for you.
Treatment: Your dentist will make a series of aligners for you to use throughout your treatment. These aligners will be worn by you daily.
Progress: You will have regularly scheduled checkups with your dentist to ensure your progress is going in the desired direction.
Completion: At the end of your treatment, your teeth will feel brand new, and we hope you will leave with restored confidence and joy.
Our team of skilled dental professionals is ready to help you get the smile you've always dreamed of. Schedule a consultation today!