Dental Implants Near You
It is essential to take care of missing teeth for many reasons. Having gaps in your teeth can not only lower confidence but can also endanger your oral health. Plaque and tartar-causing bacteria like to settle in the spaces that are made by missing teeth. Without removing this bacteria, individuals become susceptible to cavities, gum disease, or tooth decay.
The remaining teeth can shift with time when they don't have something to fill the space where the missing tooth is. Teeth will naturally move into this space which can cause discomfort with biting, sensitivity, and overall jaw function. Dental implants can often be a good choice for individuals with missing teeth and searching for dental implants near you is a great first step to restoring your oral health.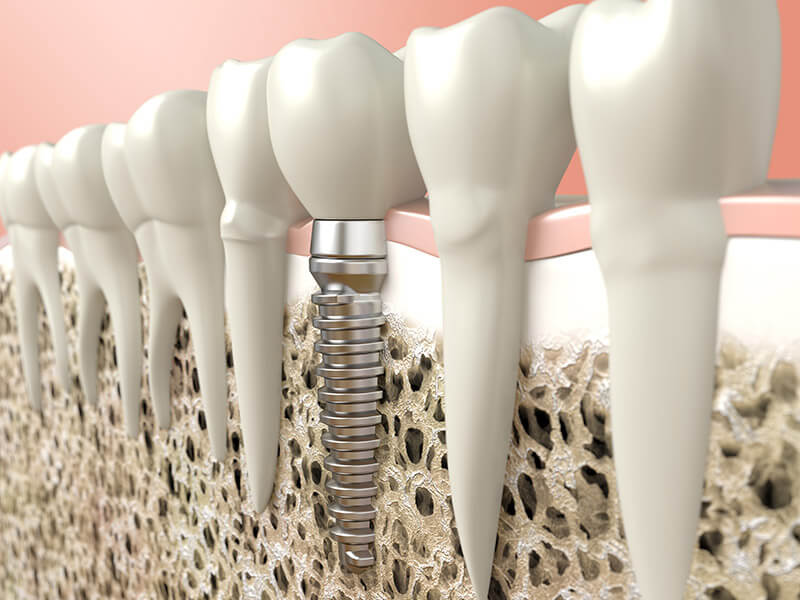 When are Dental Implants Needed?
Dental implants in South Edmonton are offered to patients with missing teeth to restore smiles, confidence, and overall oral health. Individuals lose teeth for various reasons, such as:
Oral diseases
Bruxism (teeth grinding)
Tooth decay
Physical injury
If you are missing teeth, our dental clinic offers dental implants near you. If you are considering dental implants, you must schedule a consultation for dental implants in South Edmonton. Although dental implants can be an excellent option for many, individuals who receive dental implants are required to have both healthy gums and strong jawbones in order for the implants to work properly.
What is the Procedure for Getting Dental Implants?
Dental implants are made of three separate parts: the implant screw, the abutment, and the crown.
The implant screw is made from a material that is compatible with your body, such as titanium. It will be surgically implanted into your jawbone to act as the tooth root. The abutment also made from titanium, will then be used to adhere the implant screw to the crown. After receiving dental implants, they will become a part of your body. Once you have healed, your dental implants are as strong as your natural teeth.
Getting Dental Implants Near You
Once you have had a consultation for dental implants near you and it has been determined that you are a good candidate for dental implants, a dentist will work with you to decide the best way to place your implants. At Landmark Dental, our doctors are happy to help you understand all the options we provide for dental implants in South Edmonton. Our team will work with you to find the option that is best suited to your needs and address any questions or concerns you may have.
After getting your dental implants, they will be treated and cared for the same way your natural teeth are. It is vital that you still maintain regular brushing and flossing and have regular examinations with your dentist.
Dental implants can be a great solution to missing teeth and restoring oral health. Don't hesitate to contact our dental clinic today to discuss getting dental implants near you!